European Microfinance Week 2014
|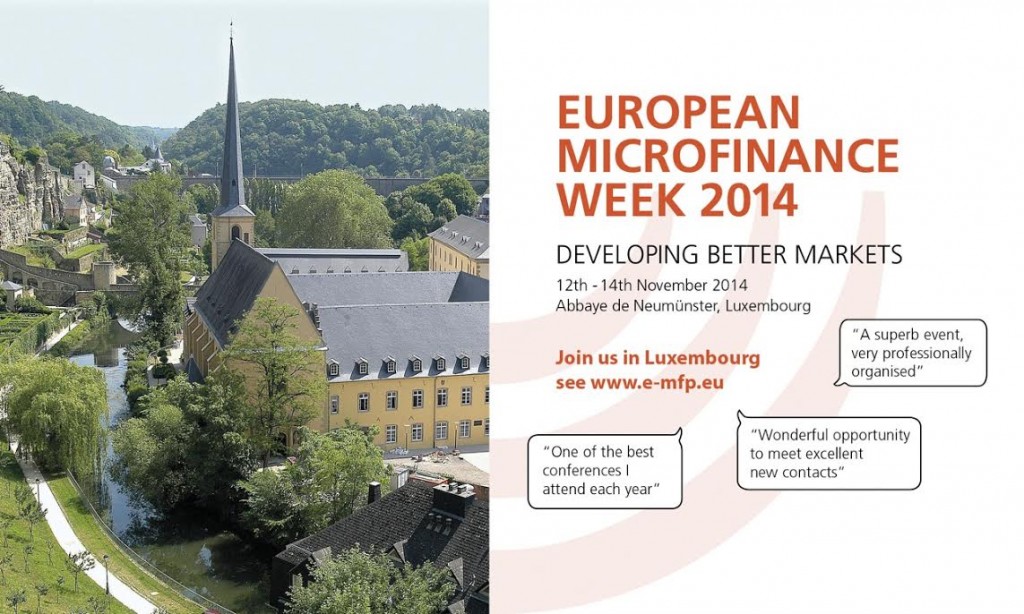 European Microfinance Week, to be held on the 12th – 14th November 2014 in Luxembourg, is the preeminent annual event of the microfinance industry. Organized by the European Microfinance Platform (e-MFP) and supported by the Luxembourg Government, the event hosts high level and in-depth discussions by all sectors of the European microfinance community working in the developing world.
Last year, the conference was attended by close to 400 microfinance professionals from 59 countries and representing a variety of fields including banks and financial institutions, government agencies, NGO's, consulting firms and universities. As noted by Christoph Pausch, Executive Secretary of the e-MFP: "The diversity of the conference participants from all sectors of the microfinance sector makes European Microfinance Week the ideal opportunity to keep on top of emerging trends and establish important new contacts."
The theme of the 2014 European Microfinance Week is "Developing Better Markets" and it will feature a number of high level discussions with some of the most prominent names in the sector. Highlights of this year's programme include a plenary with representatives of Central Banks and regulatory experts discussing the intricacies of balancing financial inclusion with the need for market stability as well as a plenary on managing overindebtedness featuring industry professionals speaking from experience.
Along with sessions examining issues relevant to microfinance investors, such as managing social responsibility during equity sales, there will also be over 20 in-depth sessions exploring microfinance in conflict zones, post-disaster areas, agricultural value chains and working with individuals in poverty.
In addition, the week will feature sessions dedicated to the issue highlighted by this year's 5th European Microfinance Award: "Microfinance and the Environment". There will be separate workshops covering environmentally focused topics like promoting green energy through microfinance and the role of microfinance in sustainable agriculture. The three Award finalists for 2014 will also be brought together for a panel discussion.
Registration is now open. To view the draft programme for the event, click here.
By Reetika Mohindra for Microfinance Focus