MFIs should focus on quality microfinance: MicroSave director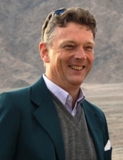 Microfinance institutions should continue to focus on providing quality microfinance services rather than attempting to offer livelihoods services, said Graham A.N. Wright, Programme Director of MicroSave India, in an exclusive interview with Microfinance Focus.
He pointed out that majority of institutions are focusing only on microfinance which he said was a sensible decision. "There are very few organisations that can credibly do both. I think strategic alliances with high-quality livelihoods support agencies is a good idea, but I think there are very few high quality livelihoods support agencies. Livelihoods segment has been struggling for many decades and it is just re-inventing itself around Value Chain Analysis which is a much more powerful paradigm," he noted.
"To be very honest, most MFIs are struggling with the basics of providing credit services. Each product they introduce merely complicates their front and back offices and processes. They will have plenty of products to keep themselves occupied without getting into a whole new vertical like livelihoods. I have seen this when I worked in Bangladesh and East Africa, and very rarely you come across microfinance organisations which can offer livelihoods services effectively," he explained.
Recalling from his experience on product development, he said the key is that products be designed and delivered to meet clearly defined client needs. Unlike the traditional approach, where in a typical "bathtub product development", a CEO gets out of the bath one day and says 'we need to be doing this.' "Then the product is foisted on the client and often they don't like it," he explained and added, "You have to really get down to the dust and see what the clients really need, and that involves qualitative research to understand the complexity of human financial behaviour. Then you can build products and delivery systems around that."